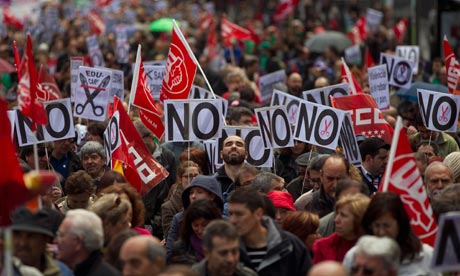 Para que los Sindicatos y la Izquierda sean responsables -lean esta opinión.

EastEndGeordie, who lived through the UK recessions of the 1980s and 1990s, suggests some Spanish workers have not yet realised the severity of the situation:
I currently live and work in Spain and it feels very odd. It doesn't feel like a country in recession with 25% unemployment. I remember the UK recessions of the 80s and 90s and they felt a lot worse.

I don't know if the Spanish are in denial. The Spaniards I work with still enjoy the 2 hour lunches, 2 coffee breaks and great social lives. The shops are full as are the bars and cafes. The Spanish are not very productive and they don't seem to care. I have told my colleagues what recessions usually feel like and they look horrified

It won't hit home until a large bank goes bust or one of the overspending regions goes cap in hand to Madrid, until then, the Spanish will not worry as it is only teenagers and young people who are out of work and most of the middle aged, middle class workers don't care.