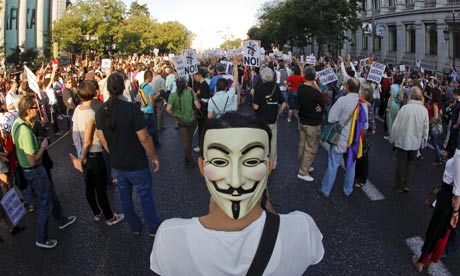 Ingignados en la Puerta del Sol
11 May 2012: 
" they embody the fundamental idea of the indignados that democracy is something you do, not something you have. On the 12 May, they hope once more to make this idea globally contagious."-off Kattarine Aiger 's indignados make change contagious-
I do not meet any practical wayout of young people mob at the Puerta del Sol in Madrid last year though, it turned out a genuine worldwide rusty spot to be watched, but not as a case in point at all. Rather than a successful event it gave a hand to the left extremists to stand for both communist and socialist parties.
It was o sort of encampment over some weeks long to quit just when the wave of heat started in June. Thus the President of Madrid community has suggested la Casa de Campo to set up their tents for the occasion !